About Us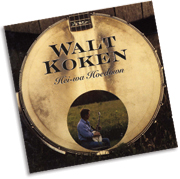 Hei-was Hoedown
Mudthumper Music is an independent CD label formed in the 1990's when Walt Koken began producing recordings of his solo banjo playing. The name originated from a band in which Walt had played in the 1960's in Ithaca, New York, which played traditonal fiddle tunes and ballads, called the Busted Toe Mudthumpers.

Busted Toe Mudthumpers
Left photo: L-R George Dorian, Walt Koken, Jeff Thorn, John Coster, Nick Shumatoff. Right photo: L-R George, Jeff, Vinaya Marty Lebenson, Nick.
It consisted of George Dorian on fiddle, Marty Lebenson on mouth harp, and at various times, either Jeff Thorn, John Coster, or Bob Pine on guitar. Walt took up the banjo duties in the band when original member Larry Marshall moved on. The group traveled across Canada in 1968 with friend and magician Ricky Jay, and toured the San Francisco Bay area that summer, and the next spring. That band saw its last days when Bob Pine, who hailed from southern California, and George Dorian died in
an auto accident while touring the maritime provinces in June 1969.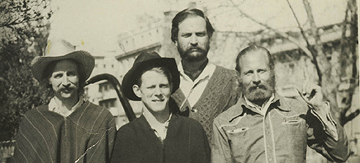 Mac Benford*, Walt Koken*, Jim Griffith, and Bob Potts*
*
Fat City String Band members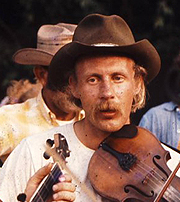 Bob Potts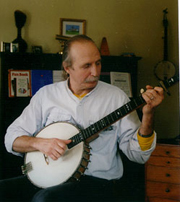 Mac Benford
Back in California in 1970, Walt hooked up with Mac Benford, whose group, Dr. Humbead's New Tranquility String Band, was breaking up, and with Bob Potts, to form the Fat City String Band.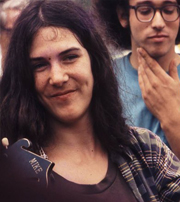 Jennifer Cleland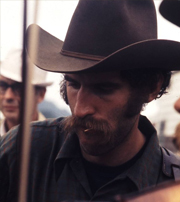 Doug Dorschug
Humbead's had been a mainstay of old time music in the bay area, and Fat City picked up where they left off. After a whirlwind tour of the east coast in the summer of 1971, Walt returned to Ithaca, where he played with Doug Dorschug, who had been a friend of George's, and Jennifer Cleland, again as the Mudthumpers.
In early 1972, Mac and Bob came east and the five of them went to the Union Grove NC, fiddlers' convention on Easter weekend, playing as the Fat City String Band. The band gained popularity quickly, but unfortunately they were advised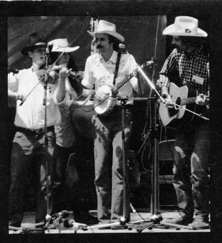 Wolftrap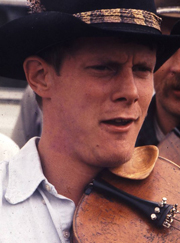 Walt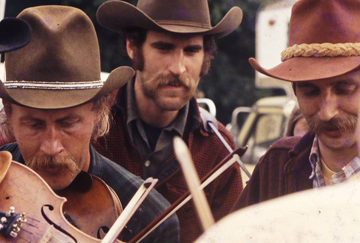 Highwoods Stringband
: Bob, Doug and Mac
not to use that name because of a piece of music
widely known at that time by a famous singer and his backup band which was known as "Fat City".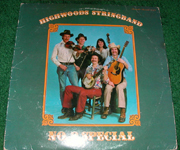 No. 3 Special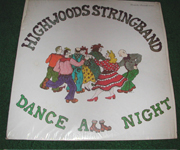 Dance All Night
So the Highwoods Stringband was born with much labor pain, Mac and Bob settled near Ithaca, and they recorded their first LP for Rounder Records, "Fire on the Mountain" that fall.
By the late 70's and two more Long-Playing, short-selling albums on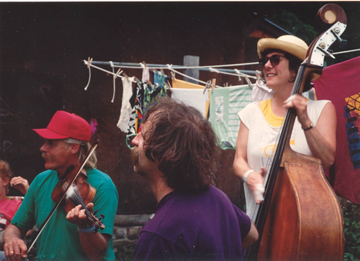 Bob, Doug and Jenny
Rounder, the fire had burned itself out and the band broke up. Mac continued to play in various combos such as the Backwoods Band, while accepting a civil service position in Ithaca. Doug continued recording and doing sound as well as playing and
living in East Tennessee. Jenny got married and went back to grad school while raising a son. Bob also settled down near Ithaca, built a house and had three children while maintaining a career as a carpenter, machinist, and sculptor. Walt did likewise, having two daughters, working in carpentry and later as a mail carrier.
In the early 90's Walt began recording some of his banjo work when Marty Lebenson loaned him a DAT recorder. After two CD's on Rounder, he decided to produce his recordings on his own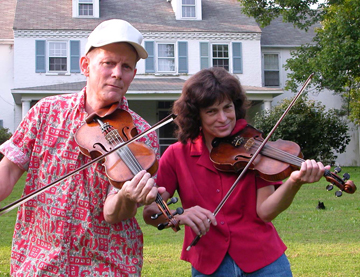 Walt and Clare Milliner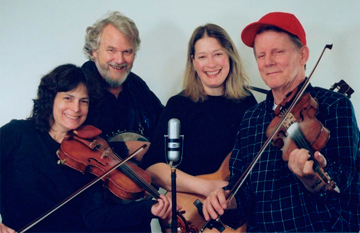 Clare, Pete Peterson, Kellie Allen and Walt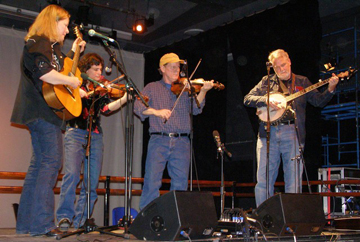 Orpheus Supertones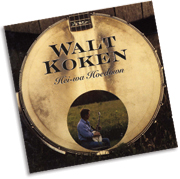 Hei-wa Hoedown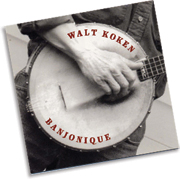 Banjonique
label in order to maximize the nearly non-existent profits, and thus Mudthumper Music was born.
In 2001 he met Clare Milliner, and a musical and spiritual bond was formed. Within a couple years the pair hooked up with Kellie Allen and Pete Peterson, who play guitar and banjo, respectively. Pete playes a Supertone banjo, which once belonged to Charlie Poole. Walt plays an Orpheum, thus the name, Orpheus Supertones. Please visit our Recordings page, to listen and order CD's.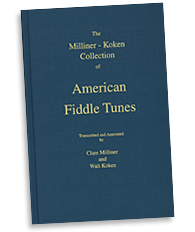 Clare and Walt also have published the long-awaited "Milliner - Koken Collection of American Fiddle Tunes", 1404 transcriptions of commonly played tunes, 888 pages, hard bound in sewn signatures. Here are some sample pages and ordering information.
We're waiting to catch the wave of the REAL old time music revival, and as we slowly age in our quest, we're enjoying playing without the headaches of either being constantly on the road or being under the thumb of an agent or major record label. Old time music is for dancing and its songs are for lifting us above our burdens. Our music gives relief from the everyday burdens of modern life, and an insight into a simpler time, with a glimmer of hope for us all. If you haven't already, please give us a listen.